How Much Does Medicare Pay for Long-Term Care?

November 17, 2021
Medicaid Planning
---
Many seniors are under the assumption that Medicare will cover some or all of their long-term care. Unfortunately, that is not the case. Medicare only covers a nursing home stay in specific circumstances for elderly or disabled individuals who are recovering from an injury, illness, or some other adverse health event. On the other hand, seniors who require custodial care—that is, assistance with their activities of daily living, such as eating, bathing, dressing, toileting, and transferring—must use other sources to pay for their long-term care.
---
Read More: Medicare vs. Medicaid: Paying for Long-Term Care
---
Medicare Coverage for Skilled Nursing Care
What are the specific instances where Medicare will cover long-term care? If you or your loved one sustains an injury or suffers some other unfavorable health incident and you are admitted to the hospital for at least three days, Medicare may cover your stay at a skilled nursing facility for up to 100 days. Your stay will only be covered as long as it is deemed medically necessary for your rehabilitation, your condition is steadily improving, and you are expected to return home eventually.
In these qualified situations, Medicare will cover the total cost of a skilled nursing facility for the first 20 days. On days 21 through 100, you'll be responsible for covering a daily co-pay ($200 in 2023), and Medicare will cover the rest. After 100 days, Medicare coverage ends, and you'll have to pay the full bill. Again, this coverage hinges on the fact that you're receiving skilled nursing care for rehabilitative purposes and you're showing signs of improvement.
---
What about Medicaid? Learn how much Medicaid pays for long-term care.
---
How to Pay for Long-Term Care?
If Medicare doesn't provide coverage, how can you pay for long-term care? Fortunately, you have a few different options to cover these costs, depending on your situation.
Out of Pocket
You may be able to pay out of pocket for long-term care, but unless you have a high net worth, you risk losing your life savings in just a few years. Although you might believe you have to exhaust your savings by paying out of pocket before you can qualify for assistance, this simply isn't true. That's where Medicaid comes in.
Medicaid
Medicaid is the primary payer of long-term care costs in the U.S. As long as you meet the requirements, you can use Medicaid benefits to cover a nursing home stay. If you have too many assets to qualify, a planning professional can help you develop a plan to protect your savings while accelerating your eligibility for benefits.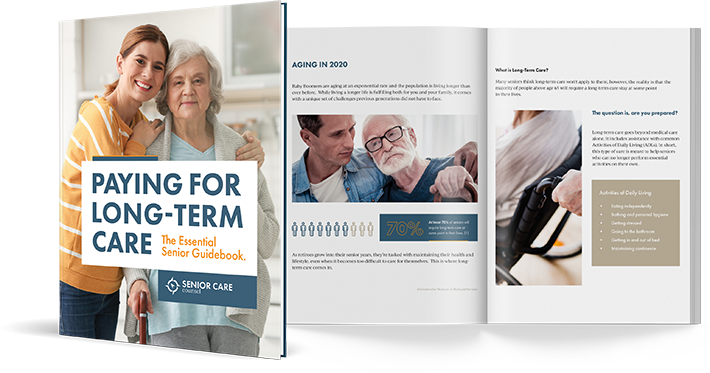 get more expert
insight with our
free planning guide!
I WANT MY FREE COPY
[FREE]

GET OUR PLANNING GUIDE:

"Paying for Long-Term Care - The Essential Senior Guidebook"

This guide takes a deep dive into the landscape of long-term care and how to pay for it without going broke, including the answers to your top questions surrounding Medicaid.

GET MY COPY