How to Choose a Nursing Home: Features to Consider

February 7, 2022
Senior Care
---
If you've decided it's time to move your loved one into a nursing home, you'll want to keep an eye out for certain features to make sure your loved one is cared for appropriately. However, you'll also want to make sure to look for any red flags, too.
The top features to consider when choosing a nursing home are:
Location
Size
Cost
Services Provided
Staffing
Nursing Home Performance
Activities & Events
---
Features to Consider
These are the top features you should consider when looking for a nursing home for your loved one. Everyone will have different preferences on what they are looking for but, above all, you should make sure your relative will feel comfortable and will be well taken care of.
Location
If you want your loved one located close to you, you'll want to see what types of facilities are in your area. If you rather focus on a facility that can provide the best care, you'll want to check to see how far away it is from you or another family member. If anything were to happen, a long drive is the last thing you'd want.
In addition to that, you'll also want to know how close the nursing home is to a hospital or emergency room in case emergency care is needed especially if your loved one is a 'falling risk' or requires very specific medical attention.
Size
Is the building so large that it would take your loved one a half hour just to get to the cafeteria? You'll want to make sure the building itself isn't so large that your relative could get lost but isn't too small that there isn't room for them to have a quiet space to relax.
Cost
Depending on what features you want, you'll have to evaluate if the cost is worth it. Some nursing homes have extra amenities like a beauty salon which may add to the cost. You'll want to know the breakdown of what everything costs and if your loved one would be most comfortable there.
Services
If your loved ones require certain medical services, you'll want to make sure the facility you choose can meet these needs. Or if the diagnoses of your loved one will include assistance with eating or other activities of daily living, you'll want to see that the staff understands how to do this properly and safely.
Staffing
If the staff turnover is high, you may want to look into why. Is it the facility that isn't doing well? Or do they hire less qualified individuals who are overwhelmed by the position?
You'll also want to know which staff members are trained for higher levels of care. Is there a therapist, CNA, or doctor on staff? If so, how often are they around and what is their previous experience with taking care of seniors?
Nursing Home Performance/Safety
Look at how the building is secured and if there are necessary passcodes or key cards required in order to get into the building. Is there security on site? If so, how many people are there for security, and do they keep an eye on all residents 24/7?
Beyond the physical security, you'll also want to make sure the building itself is created with seniors in mind. Are there a lot of stairs? Are the rooms crowded which makes movement difficult for some? Look at the facility from your senior relative's eyes, would they be able to comfortably move around their room and the facility?
Activities & Events
Most nursing homes create fun weekly activities and events for the residents. Sometimes these events are outings to a play or to go shopping and sometimes it's just simple painting classes. How involved does your aging relative want to be? Are they usually an extravert who likes to be involved or would they prefer a quieter atmosphere?
If you are interested in the activities the nursing home offers, you'll want to ask about a previous schedule of activities they've had and how many residents are usually involved. You may also want to know how they involve the residents who may not be as capable of doing the activities, do they create other activities for them or try to adapt the activity to the specific resident?
---
Things to Watch Out For
These are red flags you should watch out for when looking at different nursing homes. Rather you figure them out before you decide to move your loved one into the facility.
History of Violations
Medicare provides a resource to help you compare nursing homes in your area. You'll want to look at how many violations they have received, if they have dealt with them in an appropriate manner, and how often these violations occur.
You'll also want to know how severe these violations were and if they caused harm or death to any residents. Regardless of the violation, you should still ask the director at the facility when you tour about any violation you may worry about.
Inactive Staff
If it's difficult to get a hold of the director or you see the nursing staff sitting around when residents need help, you'll want to take note. Should any emergency arise, you'd want the staff to be attentive and available to take your call.
---
Best Practices When Looking for a Nursing Home
When on your search for a nursing home, you may want to remember these best practices to help you find the best facility for your loved one.
Two Different Facilities
Know what's out there and what types of environments each nursing home has. You wouldn't want to simply go to one facility and then assume it's the best only to find out there were much better nursing homes at the same cost.
Talk to Community Resources
Talk to elder law attorneys, healthcare providers, or religious groups about what facilities they would recommend in the area. In many cases, they have dealt with specific nursing homes and may know more about the inner workings of these facilities better than most.
Look at the Contract
Make sure you're not agreeing to certain provisions you weren't originally told about. Also, ask the director any questions about the contract that you don't understand; you don't want to enter into an agreement that you aren't 100% sure about.
Don't Be Afraid to Ask Questions
If you notice something on your tour, make sure to ask. For example, if you see a resident who isn't being cared for, ask where the staff is and if that resident is receiving proper care. These are important answers because they will help you determine if the facility is the right facility for your loved one.
---
Looking for a nursing home is important but you'll also want to make sure you have a financial plan of how your loved one will pay for this care.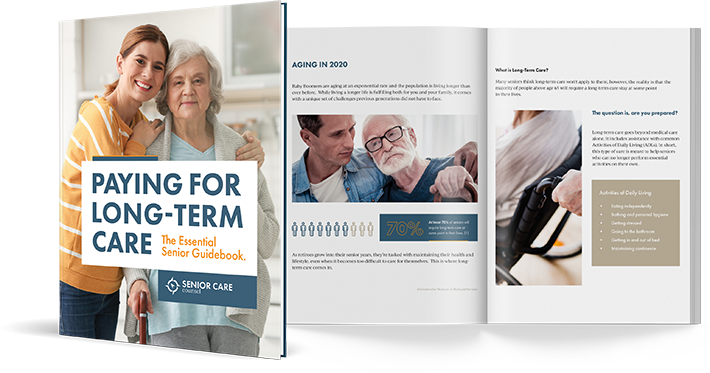 get more expert
insight with our
free planning guide!
I WANT MY FREE COPY
[FREE]

GET OUR PLANNING GUIDE:

"Paying for Long-Term Care - The Essential Senior Guidebook"

This guide takes a deep dive into the landscape of long-term care and how to pay for it without going broke, including the answers to your top questions surrounding Medicaid.

GET MY COPY