How to Pay for a Nursing Home Stay

November 19, 2020
Medicaid Planning
---
The reality is that 70% of seniors will require long-term care at some point in their lives. Unfortunately, many of them are unprepared for the high costs associated with the nursing home. And they're stuck asking themselves, "How am I going to pay for this?" Well, if you're wondering how to pay for a nursing home stay, you're in the right place.
---
Medicare Coverage for the Nursing Home
Some seniors may assume Medicare will cover all or a portion of their long-term care costs. But this is only the case for a limited amount of time and only after an eligible hospital stay. You see, Medicare was actually designed to cover a short-term stay in a care facility. If you are an inpatient at a hospital for at least three days and are then moved to a skilled nursing facility, you may be eligible for Medicare coverage for up to 100 days. The first 20 days are covered in full by Medicare, while days 21 through 100 require a copayment of $176 per day in 2020.
---
Read More: Medicare vs. Medicaid: Paying for Long-Term Care
---
Many seniors fail to plan ahead and a care facility isn't authorized to provide legal or financial advice. So, many people assume they have to pay out-of-pocket until their asset list hits zero in order to qualify for Medicaid benefits – which simply isn't true. For those who failed to plan ahead, we recommend Medicaid planning.
---
Protecting Your Life Savings in the Moment
If you have not planned ahead and are facing a nursing home stay, it's not too late. Since nursing homes can cost upwards of $8,000 per month, many seniors risk depleting their entire nest egg paying for care. Fortunately, there is another way: Medicaid planning. Rather than drain your life savings until you meet Medicaid's financial requirements, you can protect your assets while accelerating your eligibility for benefits. This is a great way to preserve what's left and put your money to better use, rather than depleting it on your cost of care. You can help ensure your spouse's livelihood after you are gone, or leave a legacy to your children. And, Medicaid pays for the majority of long-term care costs in the United States. Using a Medicaid Compliant Annuity to convert your assets to the income column is a great way to accelerate your loved one's benefits and reduce their cost of care.
---
Read More: What is a Medicaid Compliant Annuity?
---
Discover your options today!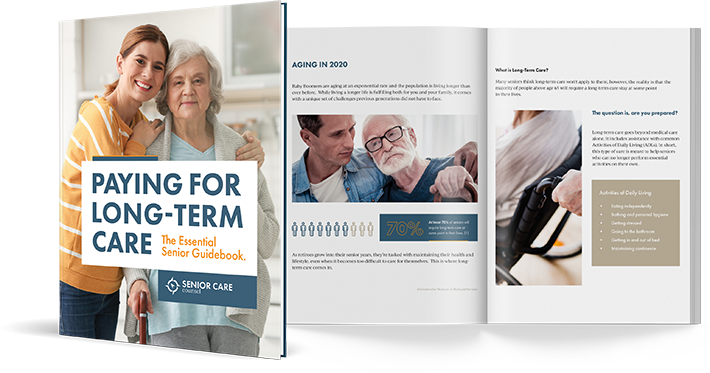 get more expert
insight with our
free planning guide!
I WANT MY FREE COPY
[FREE]

GET OUR PLANNING GUIDE:

"Paying for Long-Term Care - The Essential Senior Guidebook"

This guide takes a deep dive into the landscape of long-term care and how to pay for it without going broke, including the answers to your top questions surrounding Medicaid.

GET MY COPY