How to Protect Your Money If Your Spouse Goes into a Nursing Home

March 11, 2022
Long-Term Care Planning
---
Long-term care can be very expensive, and the last thing you want is to be left destitute if your spouse requires nursing home care. So, what are you supposed to do? Fortunately, you have options to protect your hard-earned savings in the face of a care need. Allow us to clear up some misconceptions you may have about Medicaid and reveal how you can protect your assets from the nursing home.
---
Read More: How Much Does Medicaid Pay for Long-Term Care? 
---
Medicaid's Spousal Impoverishment Standards
If your spouse has already moved into a nursing home or is about to enter one, your best option for protecting your life savings is typically to pursue Medicaid eligibility. Now, many people are under the impression that in order to qualify one spouse for benefits, both spouses must spend down almost all of their assets. In fact, Medicaid incorporates certain standards designed to prevent spousal impoverishment and allow the healthy spouse to continue their lifestyle in the community.
Community Spouse Resource Allowance
While the ill spouse is only able to keep $2,000 in countable assets in most states, the healthy spouse can retain a much higher amount. This allowance varies by state but can exceed $100,000 in many cases. Plus, once the ill spouse achieves eligibility, the state Medicaid agency will no longer review the community spouse's assets. Therefore, they can retain money above the initial allowance without jeopardizing the ill spouse's benefits.
Monthly Maintenance Needs Allowance
Instead of having an income cap for the healthy spouse, Medicaid enforces an income floor. That is, the healthy spouse is entitled to an income standard that may depend on their living expenses in some cases. If their income is below the threshold, they are entitled to an income shift from the ill spouse, dollar for dollar, until the threshold is met.
---
Learn More: What Happens When One Spouse Goes into a Nursing Home?
---
How to Spend Down Assets for Medicaid
Even though the healthy spouse has a higher asset allowance and is entitled to a certain amount of income, you still might be concerned about protecting assets above these limitations. Fortunately, you have a few options to spend down assets for Medicaid. You may choose to pay off debts or improve exempt assets, such as your vehicle or household items. In addition to these, you may also opt to purchase a Funeral Expense Trust and/or Medicaid Compliant Annuity.
Everyone's situation is different, so we recommend speaking with a professional to find out which spend-down tools are best for you.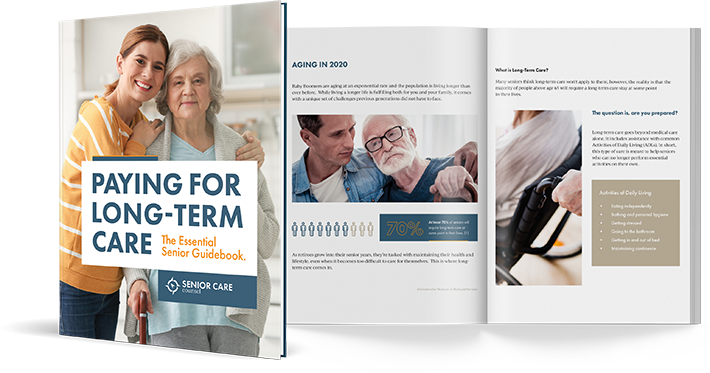 get more expert
insight with our
free planning guide!
I WANT MY FREE COPY
[FREE]

GET OUR PLANNING GUIDE:

"Paying for Long-Term Care - The Essential Senior Guidebook"

This guide takes a deep dive into the landscape of long-term care and how to pay for it without going broke, including the answers to your top questions surrounding Medicaid.

GET MY COPY