What are Medicaid's Income Restrictions?

August 13, 2020
Medicaid Planning
---
Since Medicaid is designed for individuals with limited means, you must meet specific asset and income limitations in order to qualify. It's important to understand these restrictions before establishing a Medicaid plan and applying for benefits. So, let's walk through the income restrictions for Medicaid.
---
Income Eligibility for Medicaid
As a general rule, income eligibility is achieved when the Medicaid applicant's monthly income does not exceed the private-pay rate of the facility. Their income may include Social Security, pension, and other sources. In cases involving a married couple, the healthy spouse's income does not affect Medicaid eligibility. If the couple receives joint income, one-half will be attributed to the ill spouse for Medicaid purposes.
---
Read More: What Does Medicaid Cover in a Nursing Home?
---
Miller Trust States
About half of states impose an additional income restriction. If the applicant's monthly income exceeds 300% of the SSI rate, it must flow through a Qualified Income Trust (QIT), also known as a Miller Trust. In 2023, this limit is $2,742. A QIT is an irrevocable, income-only trust that holds the income of the Medicaid recipient and disburses their allowable expenses each month.
---
Medicaid Copay
When an ill person qualifies for Medicaid, their income, apart from their monthly personal needs allowance and certain medical deductions, goes to the nursing home as their Medicaid co-pay. That is, unless they have a spouse at home whose income is less than their Monthly Maintenance Needs Allowance, a Medicaid spousal impoverishment standard. In that case, a portion or all of the ill spouse's income will be shifted to the healthy spouse to help cover expenses. The remaining amount will go toward the Medicaid recipient's copay.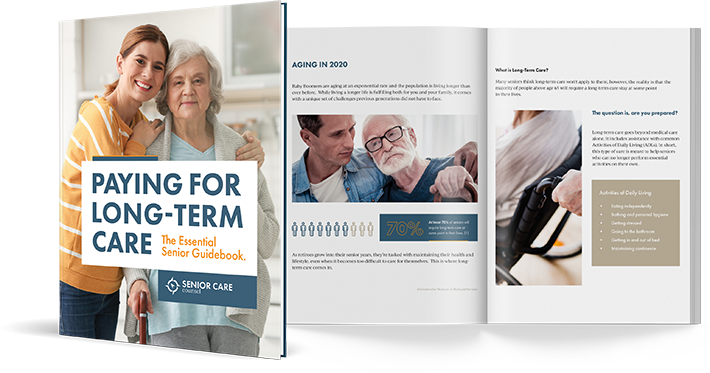 get more expert
insight with our
free planning guide!
I WANT MY FREE COPY
[FREE]

GET OUR PLANNING GUIDE:

"Paying for Long-Term Care - The Essential Senior Guidebook"

This guide takes a deep dive into the landscape of long-term care and how to pay for it without going broke, including the answers to your top questions surrounding Medicaid.

GET MY COPY