What Are the Three Types of Long-Term Care?

April 12, 2022
Long-Term Care
---
The three types of long-term care are nursing home, assisted living, and in-home care.
---
Nursing Home
Nursing homes, also called, skilled nursing, are for when someone requires 24/7 care. The facilities that have skilled nursing usually will also have rehabilitation therapy programs and advanced medical services. These facilities are a long-term care option but can also be an option for short-term patients.
---
Assisted Living
Assisted living is for aging seniors who need help with day-to-day activities like medication or meals but do not require around-the-clock care. They will usually live in a community of other patients and take part in activities and meals while also being helped by staff with their daily activities.
---
In-Home Care
In-home care, also called home health care, is for those looking to receive care in their home. The type of care given will depend on the needs of the patient; care can range from helping with housekeeping and meals to having 24/7 care. It is a more expensive option but allows a senior to remain in their home for as long as possible.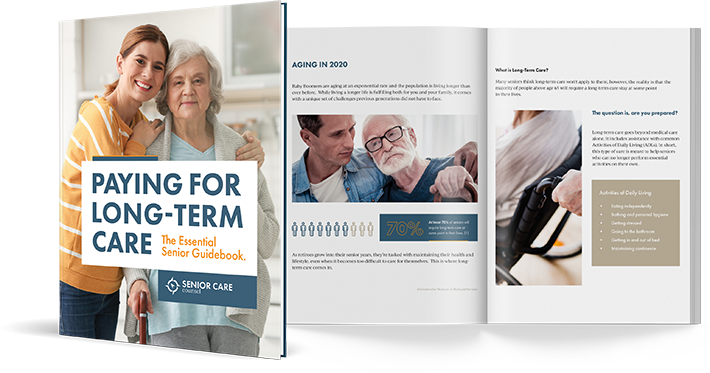 get more expert
insight with our
free planning guide!
I WANT MY FREE COPY
[FREE]

GET OUR PLANNING GUIDE:

"Paying for Long-Term Care - The Essential Senior Guidebook"

This guide takes a deep dive into the landscape of long-term care and how to pay for it without going broke, including the answers to your top questions surrounding Medicaid.

GET MY COPY