What Does Medicaid Cover in a Nursing Home?

July 8, 2020
Medicaid Planning
---
If you or your loved one surpass the 100-day Medicare coverage for a nursing home but an extended stay is necessary, you may be eligible to receive nursing home coverage through Medicaid. Eligibility requirements include income and asset limits as well as health stipulations, such as requiring assistance with at least three activities of daily living. Unlike Medicare, Medicaid coverage for nursing home care is unlimited as long as you remain financially eligible. As such, Medicaid is the single largest payer of nursing home stays in the U.S. Here's a breakdown of what Medicaid covers in a nursing home as well as some of the additional amenities you may be charged for.
---
Read More: Medicare vs. Medicaid: Paying for Long-Term Care
---
What Does Medicaid Cover?
First and foremost, Medicaid covers custodial care in a Medicaid-approved facility. This would typically be a skilled nursing home, but some states offer waiver programs for assisted living facilities or home health care programs. Custodial care encompasses room and board, pharmacy, and incidentals. Essentially, Medicaid pays for any services that attain the highest level of practical well-being for each patient, including their physical, mental, and psychological well-being. More specifically, residents may not be charged for the following:
Nursing and related services
Specialized rehabilitative services
Medically related social services
Pharmaceutical services (acquiring, receiving, dispensing, and administering of drugs and biologicals)
Individualized dietary services
Professionally directed program of activities
Emergency and routine dental services
Room and bed maintenance services
Routine physical hygiene items and services
---
Additional Amenities Not Covered by Medicaid
On the flip side, nursing home residents may be charged extra for the following:
Private room (unless medically necessary)
Specially prepared food beyond what's generally prepared by the facility
Telephone, TV, and radio
Personal comfort items (tobacco, confections, etc.)
Cosmetic and grooming items and services in excess of those included in basic service
Personal clothing
Personal reading materials
Gifts purchased
Flowers and plants
Social events and activities beyond the included program
Special care services not included in the facility's Medicaid payment
Each Medicaid recipient receives a monthly stipend, known as their Personal Needs Allowance, which they may use on these extra items. The allowance varies by state.
---
How to Get Medicaid Coverage
If your loved one is facing a nursing home and you would like to know options for becoming Medicaid eligible, we have some good news for you. It's not too late! But first, here are a few tips for you to utilize in the process:
Do not gift away your assets to meet the financial requirement. Any gifts or divestments made five years prior to the Medicaid application date are subject to a penalty period, during which you will not be eligible to receive Medicaid benefits.
Planning ahead is always the best option. That way, you can take certain measures to ensure you'll be covered if you require long-term care.
In crisis situations, you can utilize specialized products, such as a Medicaid Compliant Annuity, designed to help you preserve your assets rather than drain them on care costs.
Reach out to those with knowledge and experience. In Medicaid planning situations, working with legal and financial professionals allows you to cover your bases and use the strategy that's best for your specific situation.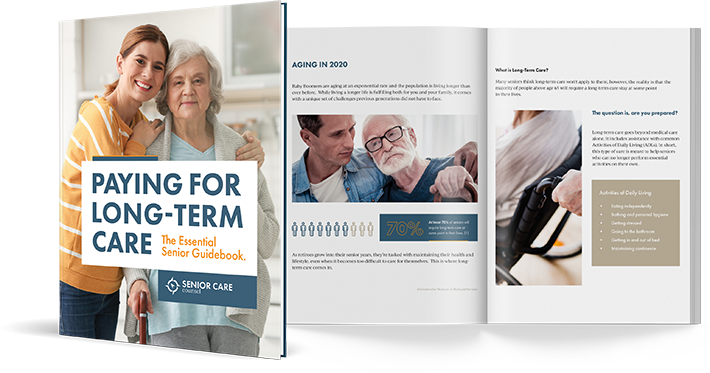 get more expert
insight with our
free planning guide!
I WANT MY FREE COPY
[FREE]

GET OUR PLANNING GUIDE:

"Paying for Long-Term Care - The Essential Senior Guidebook"

This guide takes a deep dive into the landscape of long-term care and how to pay for it without going broke, including the answers to your top questions surrounding Medicaid.

GET MY COPY